Considered one of the most coveted, pristine, and rare of LeBron James' rookie productions. 1 of 500 produced. Elite grades on both the card and the autograph. A chance to own real shares in one of the most investable athletes in history.
2003 LeBron James Signed Rookie card
ALL-IN OFFERING:
$50,000
TOTAL OFFERED:
$50,000
TOTAL SHARES:
2,000
PRICE PER SHARE:
$25
Limited shares. No obligation to invest. We will never share your email or send you spam.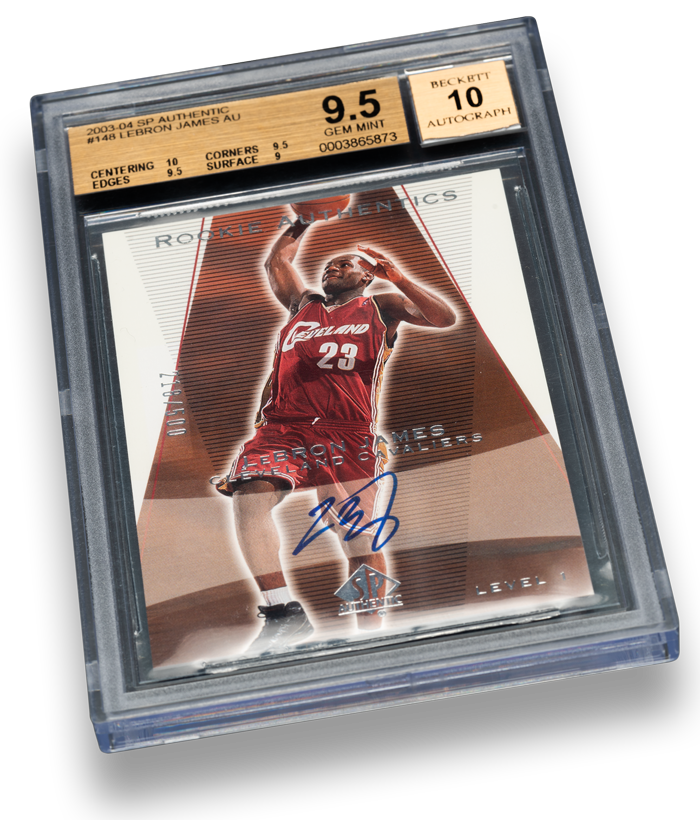 "When I see LeBron James, I see the best and most dominant player in the game."
The card features Lebron James in his dunk pose while playing for the Cleveland Cavaliers. The card is signed by James in blue ink across the bottom center of the card.
Lebron James, also called King James, is an American professional basketball player. James is frequently discussed as one of the greatest basketball players of all time, and certainly one of America's most influential and popular athletes of his generation. Over the course of his career, James has won three NBA championships, three NBA Finals MVP awards, and four NBA's Most Valuable Player awards while playing for the Cleveland Cavaliers, Miami Heat and Los Angeles Lakers.
In 2010, James made a controversial decision to leave his hometown Cleveland Cavaliers to play for the Miami Heat, a nationally televised announcement deemed "The Decision." After winning two championships with the Heat, Lebron triumphantly returned to the Cavaliers and brought the city of Cleveland its first major professional sports championship since 1964, and the first-ever championship won by the Cleveland Cavaliers franchise.
The 2003 SP Authentic #148 Lebron James is one of the most desired of Lebron's rookie productions. As one of only 500 made, the card is extremely rare.
Beckett, the top grader for this specific card, has graded this card a Gem Mint 9.5. Out of the 290+ submissions, only 1 has graded higher.
This card features a beautiful autograph in blue ink across the bottom center of the card. The autograph was graded a 10 by Beckett.
LeBron related sports memorabilia has been some of the best performing in 2020. The $630,000 sale of "The Chosen One's" 2020 All-Star jersey set a record for a modern day game-used jersey.
The $1,845,000 sale of Lebron's 2003-04 UD "Exquisite Collection" #78 Signed "Rookie Patch Parallel" (RPP) card shattered the previous record of $922,500 for a modern day card.
Supply Risk-- If other high quality LeBron James cards flood the market, prices may decline.
Illiquidity-- Shares in these assets could be difficult to sell if there is limited counterparty demand.
Market Risk-- Given the nature of collectibles, interest in and prices of assets can vary across economic cycles.
Loss of Cultural Relevance-- The value of sports memorabilia is driven by the popularity of the athlete or team featured. If Lebron James becomes less popular, the prices of his related memorabilia may fall.
"Investors have the chance to earn money as their shares become more valuable over time"

This investment is speculative and involves substantial risks to consider before investing, outlined in the Offering Circular and including, but not limited to, illiquidity, lack of diversification, and complete loss of capital. Also, the adverse economic effects of the COVID-19 pandemic are unknown and could materially impact this investment. All securities-related activity is conducted by Dalmore Group, LLC, a registered broker-dealer, and member FINRA, SIPC, located at 525 Green Place, Woodmere, NY, 11598. Please do not use email to request, authorize, or effect the purchase or sale of any security or commodity. Unfortunately, we cannot execute such instructions provided in email. Collectable Sports Assets LLC is sponsoring a public offering pursuant to Regulation A under the Securities Act of 1933, as amended. The offering circular can be found here. Past performance may not be indicative of future results. Investments in alternatives, such as the investments offered on the Collectable Sports Assets LLC platform, are illiquid and carry the risk of complete loss of capital. Key risks include, but are not limited to, no operating history, limited diversification, risk of damage or theft and no voting rights. Investors should carefully review the risks described in the offering circular for a more comprehensive discussion of risk.
Copyright Collectable © 2020. All rights reserved.