A piece of American history. Perfectly preserved since 1953.
1 of only 2 '53 Mantle PSA Gem Mint 10's in the world.
1953 Topps Mickey Mantle PSA Gem-Mint 10
OFFERED TODAY TO ALL SPORTS FANS
ALL-IN OFFERING:
$2,500,000
TOTAL OFFERED:
$1,000,000 (over 80% full!)
TOTAL SHARES:
40,000
PRICE PER SHARE:
$25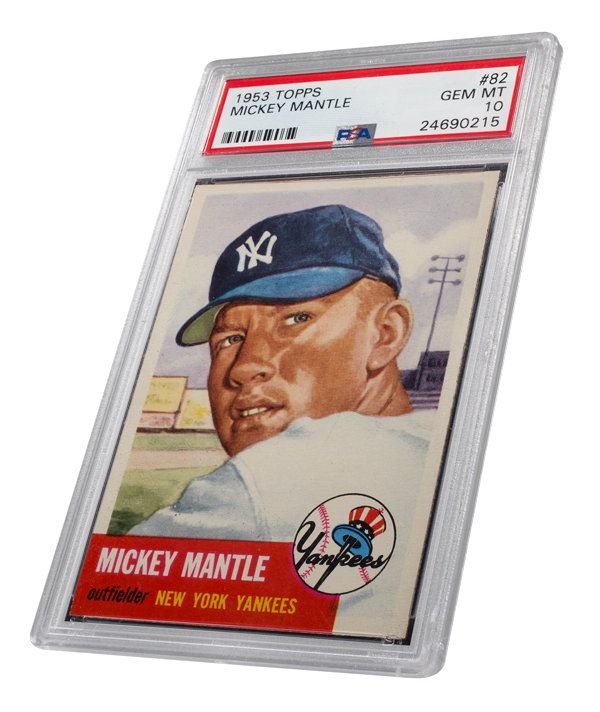 "Meet One of History's Greatest Baseball Cards"
Collectable is proud to offer fractional ownership in a 1953 Topps Mickey Mantle PSA Gem Mint 10, one of only two awarded mint condition in the world. This card represents a slice of American history and American exceptionalism, and is widely considered the most visually appealing Mickey Mantle card ever produced.
Perfectly preserved since 1953, the card's overall freshness and gloss makes it appear as though it was just pulled from a pack, showing no wear to the edges and four perfect corners. Collectable's '53 Mantle IPO broke the sports memorabilia and cards fractional ownership record for the most valuable asset ever offered.
Mickey Mantle is one of the most beloved post-war players and rivals Babe Ruth in all-time popularity. Mantle's numbers jump off his Hall of Fame plaque: 536 home runs. Winner of the league homer title and slugging crown four times. Collected 2,415 hits. Batted .300 or over in ten individual seasons with a top average of .365 in 1957. Voted A.L. Most Valuable Player in three different seasons, 1956-57-62. Named on 20 A.L. All-Star Teams.
Mantle was the linchpin of the Yankee's epic dynasty during the 1950s and early 1960. He collected seven World Championship rings while hitting a record 18 World Series home runs. He symbolized the 1950s— a period of American exceptionalism, peace and prosperity, and the golden era of baseball when all three New York teams dominated the country's national pastime. His cards and memorabilia command some of the highest prices of any sports collectibles. Starting in the late 1970s, Mantle ushered in the sports collectible craze through his autograph appearances and the soaring value of his early baseball cards.

The PWCC 100 Index, an index that captures the price movement of various vintage sports cards, has appreciated 264% from 1/1/2008 - 5/11/2020.

Many collectors believe a PSA 10 Mint Topps 1952 Mantle would sell for over $10,000,000, should one become available for sale. There are three known in circulation, compared to two 1953 PSA 10's.
A PSA 9 Mint Topps 1952 Mantle sold in 2018 for $2,880,000 making it the second largest sale for a baseball card ever.
The 1953 mint PSA 9 Mantle has soared in value from $88,000 in 2009 to $396,000 in 2019. It is five times more common by rating than the PSA 10.
The card is a "short print," meaning it was produced in fewer quantities than other cards in the set.

The 1953 set is the only mainstream card that is illustrated by Topps, dating back to 1951, and is known for its distinctive and beautiful artwork.
Supply Risk - If other high quality sports and/or Mantle cards flood the market, prices may decline.
Illiquidity- Shares in these assets could be difficult to sell if there is limited counterparty demand.
Market Risk - Given the nature of collectibles, interest in and prices of assets can vary across economic cycles.
Loss of Cultural Relevance - The value of sports memorabilia is driven by the popularity of the athlete or team featured. If Mickey Mantle becomes less popular, the prices of his related memorabilia may fall.
"I bought a $2.5 million Mickey Mantle card
with just $25"
This investment is speculative and involves substantial risks to consider before investing, outlined in the Offering Circular and including, but not limited to, illiquidity, lack of diversification, and complete loss of capital. Also, the adverse economic effects of the COVID-19 pandemic are unknown and could materially impact this investment. All securities-related activity is conducted by Dalmore Group, LLC, a registered broker-dealer, and member FINRA, SIPC, located at 525 Green Place, Woodmere, NY, 11598. Please do not use email to request, authorize, or effect the purchase or sale of any security or commodity. Unfortunately, we cannot execute such instructions provided in email. Collectable Sports Assets LLC is sponsoring a public offering pursuant to Regulation A under the Securities Act of 1933, as amended. The offering circular can be found here. Past performance may not be indicative of future results. Investments in alternatives, such as the investments offered on the Collectable Sports Assets LLC platform, are illiquid and carry the risk of complete loss of capital. Key risks include, but are not limited to, no operating history, limited diversification, risk of damage or theft and no voting rights. Investors should carefully review the risks described in the offering circular for a more comprehensive discussion of risk.
Copyright Collectable © 2020. All rights reserved.